In 1918, following his fortunate survival from the Battle of the Somme, Colin Fraser had two uppermost thoughts on his mind; the first concerned the £50 he had saved from his four years serving King and Country, the second was his concept that a Plumber should be able to get ALL his supplies from one source – an idea that his own father had conceived.
The money saved was used to found his second thought – thus in 1919 Fraser & Ellis was born.
Both Colin Fraser and Vic Ellis, business partners behind Fraser & Ellis had previously worked as 'juniors'/ 'office boys' for Burn Brothers, London Plumbers Merchants prior to fighting together in the trenches in the First World War. Colin Fraser's father, William Jock Morrison Fraser, used to work for Burn Brothers in the early 1900's, which used to be a Plumbing 'Contractors'. William had endless difficulty convincing Cyril Burn and the management to acquire a large warehouse in Stamford Street SE1, to begin stocking and selling cast iron pipe as well as plumbers' materials. They became London's first specialist Plumber's Merchants and went on to be known as Drainage Castings, then Drainage Systems, Ashworth Frazer and now Frazer's which ironically, ended up being a direct competitor of Fraser & Ellis.
Fraser & Ellis first began trading in 1919 as 'Foundry Agents' out of offices in Holborn. In the early 1920's the company moved to listed premises in Old Church Street, Chelsea, in order to begin stocking the materials they needed; mainly cast iron drainage products. The warehouse occupied by Fraser & Ellis was historically used as horse stables and the cart horses would be hauled up onto the first floor via a rope & pulley frame (which is on a listed frontage and can still be seen today). Over the years more space was acquired and the warehouse expanded to 25,000sq ft. of storage, mainly stocking cast iron drainage products.
Recent and current neighbours to Old Church Street have included Eric Clapton, Kylie Minogue, Elaine Paige, Jenny Agutter, Mick Jagger, Lady Redgrave, Sir Peter Hall & even Kate Middleton lived at one point directly opposite! The adjoining Chelsea Old Church Hall provided entertainment to all at Fraser & Ellis as the soaring sounds of Elaine Paige could be heard rehearsing 'Memories' for the London 'Cats' production – also Mollie Sugden, 'Captain Peacock' and John Inman rehearsing for 'Are You Being Served'.
Fraser & Ellis became a 'Limited' company in 1923. In over 96 years the Fraser at the helm has changed twice, the premises have changed twice and normal service has been interrupted only once (for the manufacture of munitions components during the early 1940's)!
Between 1939 & 1945 Colin Fraser set up an Engineering Shop (classified as 'Essential Works'), for the manufacture of hexagonal bomb noses on lathes. This was done primarily to protect one of his daughters, Jean, as well as other skeleton staff, from being 'called up'. After Jean had checked each screw nose cap, it had her initials JF stamped on it.
Jean Fraser is now 92 years old and lives in the Isles of Scilly. During the war she had to 'Fire Watch'. This entailed patrolling the Chelsea Streets weekly with planes overhead, and flares, bombs and sirens going off. She often slept amongst the manhole covers, baths, WC's, drainpipes and gutters in the basement. The old cast iron bath in the cellar, with pillow and rug, gave her refuge and security from the blasts whilst she tried to get some sleep. She recalls one night, during a 'blackout', having both Vic Ellis and Colin Fraser dive on top of her on the pavement when a doodlebug passed right over their heads in Old Church Street!
Another time Colin and Jean arrived for work to find adjoining Chelsea Old Church flattened as well as part of the Fraser Ellis building bombed by a parachuted land mine. Most of F&E's frontage remained, but sadly the Church caretaker 'Robbie' was killed. Colin Fraser and Vic Ellis continued working from their first floor office even though the windows and front office wall had been blown out – A huge Union Jack flag was hung out in its place!

Jean recalls often sleeping in the offices and remembers seeing the reflection of huge fires over the Thames on the panelled walls in the office. Her stock cabinet desk window overlooked the Thames and when the flag went up over 'Morgan Crucibles' building (south of Battersea Bridge) it was a signal that an air raid was imminent and she had to warn everybody to flee to the basement.
At the beginning of World War II, Colin and Vic purchased a farm with 17 acres, looked after by Ted Moult included chickens, vegetable gardens and many barns in Beare Green, Dorking, (currently a horse riding school). This was done in order to carry a large proportion of Fraser & Ellis's stockholding in the event that the Chelsea premises were bombed – and as an extra precaution, a local service garage and offices were also purchased on the A24 for the same reason.
However, a stray 500lb bomb exploded right in the centre of the barns and made a huge crater. The assumption was that the pilot was dumping his load in order to get home rather than taking it on to London, where he would have been in the firing line of the ack-ack guns.
Vic Ellis's house in Streatham had a direct hit. Luckily the whole family were staying elsewhere that night. Jean, Colin Fraser and Vic Ellis went to the house the following morning to see if they could salvage anything, but it was an impossible task. Jean still remembers the horror of it all. On top of all of this, thieves backed their lorries into the yard of Fraser & Ellis and stole pipes and gutters. After World War II Fraser & Ellis employed 34 staff, many of whom worked their whole lives at the firm.
In the 60's Colin Fraser and Vic Ellis passed on the business to their sons Ian and Roy Fraser and Bryan and Donald Ellis. Tragically in the late 60's Donald was killed in a car accident, and shortly after Bryan Ellis decided to leave the business. Following this Ian and Roy Fraser took over the helm at Fraser & Ellis Ltd. In 1993 Paul Fraser (Roy Fraser's son) joined the business, after seven years of working for various Plumbers and Builders Merchants, in order to learn the trade. When Paul joined the company the average years of service between the 16 staff members was 34 years!
In 1996 due to increasing difficulties trading from Old Church St, including driving and parking restrictions, as well as a need for structural repair, it was decided to sell the property for redevelopment. The business moved to a more 'user friendly' one-storey warehouse in Howie Street Battersea.
In 1997 Paul Fraser took over the company and within a year Paul increased the business by purchasing a local Plumbers' Merchants based in Balham: Beardson & Co. Ltd. The stock, the staff and the Beardson's customer database now belonged to Fraser & Ellis and widened the stock profile as well as increased the turnover.
In 2001 Paul continued the expansion of Fraser & Ellis by taking over the stock, shelving, delivery trucks, the customer database, as well as many of the staff from Smith Brothers Stores Ltd, who had decided to close down their Branch in Battersea. This takeover enlarged the business stock profile further, to a point where Fraser & Ellis now hold one of the widest ranges of Domestic & Commercial Plumbing & Drainage materials in London.
In 2005 Fraser & Ellis were able to acquire the current premises they occupy in Gwynne Road. This ensured Fraser & Ellis Ltd long-term security and control of its own premises.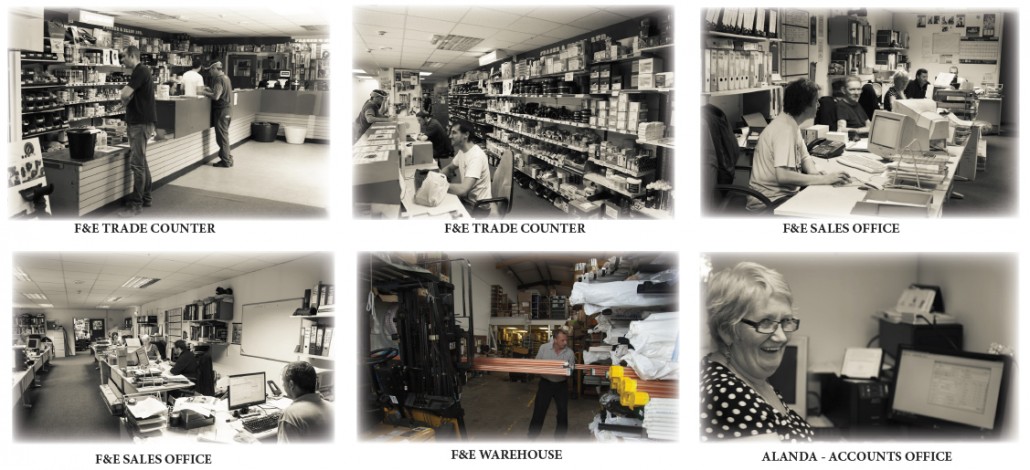 Roy Fraser (Colin's son) joined F&E in 1952 after National Service, and is still involved in the business today aged 83 !) Founded over 96 years ago Fraser & Ellis remains in family ownership. The modern Fraser & Ellis now stock around 10,000 Product Lines, from Ball Valves to WC Pans and from Olives to Baths in 17,500ft² of warehouse.
Fraser & Ellis Ltd is a substantial service-driven Plumbers' Merchant meeting the needs of Plumbers and Building Contractors across London and the surrounding counties. We currently have 339 years worth of experience between 13 members of staff. We supply one of the widest ranges of plumbing, heating, drainage and mechanical materials in London – from cast iron to the most modern of materials and systems. Our convenient location with two customer car parks and our expert knowledge enables us to offer a quality and speed of service second to none.